Ladies and gentlemen, boys and girls, animals both domesticated and wild, grip your ankles and say your prayers 'cause the shows about to get started. Prepared to be mystified and delighted by this publishing extravaganza.






Based on the PW article called What Do Teens Want?, it seems an overwhelming majority of teen readers want books that don't suck. Wonder who they had to pay for that insider knowledge?

<<<<>>>>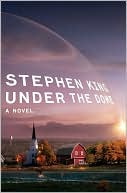 I spoke briefly the other day about Stephen King's new book Under the Dome, and I wanted to mention something interesting that literary agent Michael Stearns of Upstart Crow Literary Agency found--or rather something he didn't find--in the book.

<<<<>>>>




Cormac McCarthy gives a rare interview to the Wall Street Journal to discuss his novel The Road. Here's a snippet I personally enjoyed:

WSJ: How does that ticking clock affect your work? Does it make you want to write more shorter pieces, or to cap things with a large, all-encompassing work?
CM: I'm not interested in writing short stories. Anything that doesn't take years of your life and drive you to suicide hardly seems worth doing.
<<<<>>>>
The first 171 pages of Robert McCammon's Mister Slaugher are available on the Subterranean Press site. What are you still doing here? Get over there and start reading.

Later Fiends,